Page 5 - FINAL PROGRAMME 2017
P. 5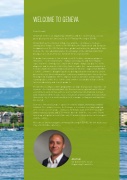 WELCOME TO GENEVA
Dear Friends,
On behalf of the local organising committee and the city of Geneva, it is our great pleasure to welcome you to the 33rd Annual Meeting of ESHRE.
Known both as the smallest of big cities and the 'city of peace', Geneva - among other things - is home to the World Health Organization and European headquarters of the UN. Outside these global institutions the quayside of Lake Geneva, the city's abundant parks, the alleyways of the old town and smart boutiques are all an attractive invitation for a leisurely stroll.
Reproduction remains a clinical and scienti c  eld in continuous progress. Innovative - even revolutionary - changes are frequent, and more may be expected in the coming years, any of which might change our practice in the diagnosis and treatment of infertility. And it's under this common umbrella of new developments and an improved outlook for infertile couples that ESHRE's scienti c committee brought together a distinguished international faculty to present the very latest information, controversy and future direction in this fast moving  eld. In addition, 15 Precongress Courses will offer a wide range of learning topics, while the scienti c and commercial exhibits will present the latest in laboratory and clinical products.
Beside this exciting scienti c programme we hope that you will enjoy this 'city of parks'. As a truly international city, Geneva is an exceptional multicultural environment, with 40 museums as well as numerous international festivals and exhibitions. With its lake, rivers, mountains and vineyards, Geneva is more than just a city; it is a small world in itself, a unique setting just waiting to be discovered.
Geneva is linked to Europe's capital cities by its airport, motorways and rail network. The congress venue, the Palexpo, is located at a rail and road hub at the very heart of Europe - and just a 10-minute walk from Geneva airport and its railway station, and a 15-minute bus ride from the city centre. Trains operating at regular intervals take only 10 minutes to run between the airport and the centre.
Welcome to another magni cent Annual Meeting of ESHRE. We will make your stay a memorable experience.
Anis Feki
On behalf of the Local Organising Committee.